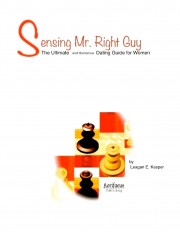 There's no fooling a Woman when she uses her 7 Senses, as apparent in Leagan E. Kasper's 'Ultimate and Humorous Dating Guide for Women'.
New York City, August 4, 2015 (Newswire.com) - ​​​​​​​​​​​How to get a glimpse of the personality traits of every man, regardless how well a man tries to hide them, is what Leagan E. Kasper shares in Sensing Mr. Right Guy, a compellingly insightful and rip-tickling funny Dating Guide book for Women, released August 1.
A 'piece of cake', literally, is how a woman should look at a man to whom she feels attracted, first taking a whiff of a man's Scent which discloses more than meets the eye, shares the Author in her newest book. The face and height of a man may well be the first thing we pay attention to, but a close look at a male's individual features lead women to uncover a man's hidden psyche, temperament and sexual desire, explains Kasper in her thought-provoking Dating Guide with such rationality, as though she's been a fly on the wall in the most safely guarded chambers. How much a man is willing to voluntarily divulge about himself while talking about others, is logically explored and will inspire women to listen more closely to what men have to say on a first date.
The dumbest thing one can say is , " I am Smart ."
In Sensing Mr. Right Guy women, of all ages, will feel empowered like they've never thought possible, while entertainingly guided through the 9 steps of dating with astonishing perception, razor-sharp wit and knee slapping humor.
Who would have thought earlobes spill the beans on pick-up artists, selfish lovers, men with violent tempers, or the sensible romantic ? Comparing specific features, as described in the book, with features of people we know or knew, Kasper's keen perceptions leave no doubt that features provide us with Clairvoyance into every man's secret nature.
Nothing, it seems, passed by the eye of the Author while she meticulously observed men's physical attributes, comparing them to their psychological make-up - down to the form of the fingernails and even the nostrils. And while Sensing Mr. Right Guy is unquestionably the book all women have been waiting for to mind-read men by using their 7 senses, instead of laying down Tarot cards or having their palm's read, Sensing Mr. Right Guy is also one of the most entertaining books filled with personal anecdotes helping women deal with possible insecurities, amusing stick-figure cartoons by Kasper, refreshing original quotes, and at the same time so exquisitely humorous, causing a hearty belly laugh in every chapter with some truly hilarious paragraphs and superb one-liners, like: " So what he looks like Zeus, but his voice makes Peewee Herman sound like a purring Porsche engine. "
Sensing Mr. Right Guy is an astutely crafted dating guide - a must read for every woman ( and man) with canny tips and an exhilarating sense of humor.
The Author notes the idea came to her during a recent interview on Boston's BizTalkRadio Frankie Boyer Radio show, talking about her aesthetically erotic Novel LOVE, with Frankie sharing how difficult dating has become for grown up women and finding the right man. " I instantly knew I had to write this book", explains Kasper, " My muse was so tickled, it magically moved the pen, poetically speaking. A week later, on Rose Colombo's Justice Club ​radio show, I shared a little secret of why I enjoy flying so much and it was received with such laughter, I decided to put that secret into the book, as well", Kasper divulged.
About the Author
Leagan E. Kasper is an American Author living in New York City. She is the founder/creator of ™Korifaeus Entertainment, the Multi-Genre Entertainment Boutique Online. She is the Author of the aesthetically erotic novel LOVE. Other works by Kasper include Surviving Pan, a fictional Dialogue between three Scientists solving the Mysteries of History and Mythologies, Temporis Spatio (A Space in Time) completely written in rhyming verse, and The Deceptive Fibionary, a Collection of deceptive Short Stories, amongst others.
Kasper is currently working on a historical thriller that will be written and released in English and German at the same time.
Book Title: Sensing Mr. Right Guy
88 pages
Softcover, $8.99; ISBN: 978-1515316732
E-book, $3.99; ASIN: B0137PJZ9Q
Publication date: August 1, 2015
Published by Korifaeus Publishing
Available in Bookstores and booksellers Internationally and online, including Barnes & Nobles and Amazon
Share: