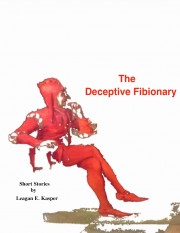 Editor-in-Chief of Midwest Book Review calls Leagan E. Kasper an impressively original storytelling talent.
New York City, September 14, 2015 (Newswire.com) - "The Deceptive Fibionary" showcases author Leagan Kasper's impressively original storytelling talents in general, and master of the short story form in particular. As impressively written as they are diverse, the stories are highly recommended as solidly entertaining reading. "The Deceptive Fibionary" is recommended for both personal reading lists as well as community library Short Story Fiction collections. - James A. Cox, Editor in Chief, Midwest Book Review
"The Deceptive Fibionary " is comprised of three thought-provoking and deceptive short stories by Leagan E. Kasper: Honorable Mischief, a mischievous Court Procedure with a twist; The Lion's Den, a Sci Fi tale of mammoth proportions and The Great Adventure, the unanticipated adventure of a scribe, written completely in rhyming verse.
What was being discussed was how, it first appeared, beings had been visiting this earth and no one could understand how they were able to enter earth's atmosphere undetected. These beings could take the form of ordinary people, it seemed. Eye witnessed evidence testified to their capability of entering computers, taking control of the entire web. But not only that. They appeared to have power of the elements, as well.

Excerpt of The Lion's Den
Book Title: The Deceptive Fibionary
88 Pages
Softcover, $ 5.99 ; ISBN: 1514390078
Available at Booksellers Internationally and Online, including Barnes and Noble and Amazon. Also available as Ebook for $3.99
Share: