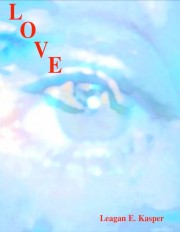 Savoring Eroticism (or Life) with All of the Senses Is the Focus of LOVE, the New Erotic Novel by Leagan E. Kasper
NYC, NY , July 1, 2015 (Newswire.com) - ​​​​​​​The beginning of a sensual and longstanding relationship is the premise of Leagan E. Kasper's new novel, LOVE. The author eloquently shares the electrifying journey of Herzog and Em as they learn about one another by exploring their tastes in food, music, humor, and each other. Over the span of three months, the couple meets, dates, and marries. And while the two New Yorkers openly share experiences with each other, along the way they retain a great level of mystery that allows for a number of exciting discoveries during their honeymoon. LOVE is an adventure for all the senses and allows a peak into the growing relationship between two secure and curious individuals that is based on desire and not desperation.
In LOVE, a thirty-two-year marriage begins with a chance meeting on Fire Island. When Herzog notices Em, it is her well-groomed feet that he initially pays attention to, because to Herzog, feet reflect the cleanliness and character of the entire woman. Later, in the small hours of the night, Herzog and Em find themselves indulging in a late-night snack during which Herzog's initial attraction expands to delight over Em's appearance and actions, as well as the nonverbal communication they share with their eyes.
Dream, …….'cuz nothing is more productive than creating Visions for the Future - ©Leagan E. Kasper
A week later, Herzog asks his best friend Manny about Em. Manny reminds Herzog that Em is his cousin, whom Herzog knew when she was a child. With this information in hand, Herzog visits Em at her apartment where his sense memory suddenly becomes alive, making the sharing of a savory meal a pleasure feast. Although there is a significant age difference between the two, Em is twenty-eight and Herzog forty-two, they are in synch emotionally and intellectually. They're not playing games. Em and Herzog are simply open to gradually getting to know each other while continuing to live the lives they built before they started dating. Lives they keep secret from one another until they are involuntarily revealed, causing unanticipated shock and delight.
Three months of dating leads to marriage and a surprise honeymoon in the Middle East. On their honeymoon, the sensuous nature of the couple's relationship expands to the physical exploration of each other's bodies using original imagination, wit, and eroticism that is sensual and enticingly poetic, passionate, and exciting. The experienced Herzog is anxious to coach his young wife in the ways of sensual pleasure, but at the same time he is reluctant to move too fast, increasing the magnetic attraction between them. A mutual seduction ensues, which allows Em and Herzog to open up and share even more, finally revealing truths to themselves of who they really are as individuals, much to Herzog's surprise, who discovers the man inside him he never knew.
The author calls LOVE an "aesthetically erotic novel that journeys into the relationship of two who dare to suffer love using all of their senses." The idea for the book came to Kasper during a walk in Central Park when she noticed a man sitting on a bench, reading a book. "I wondered what his life was about, how he met his wife—he wore a golden wedding band—and what kind of a man he was," Kasper says.
"I went home, sat down, and began writing the life of Mr. Herzog, exactly as I described in the preface of the book. And then imagination took off, and, my, my, I was surprised myself where it led to."
Kasper believes that LOVE illustrates how beautiful and fulfilling relationships can be when people allow themselves to use all of their senses. "It's an erotic novel that lures the reader into a totally new world that's foreign to them, a world that's seductive, erotic, tempting, poetic, and humorous, yet there is no content of vulgarity, not even a four letter word." In LOVE, Kasper offers readers a look into the intimate life and inner thoughts of a budding couple.
About the Author
Leagan E. Kasper is an American Author living in New York City. She is also the founder/creator of Korifaeus Entertainment, https://korifaeusentertainment.wordpress.com , the multi-genre entertainment boutique online. She is the author of Surviving Pan, a fictional dialogue between three scientists solving the mysteries of history and mythologies and Temporis Spatio (A Space in Time) completely written in rhyming verse. Her new erotic novel LOVE, follows the intimate and sensuous journey of a couple falling in love and establishing a life together.
As a writer, Kasper notes that her primary inspiration is "to indulge in all of what my imagination has to offer, to go on adventures, experience situations I envision while writing, and indulge in sensual pleasures I can imagine to exist without getting up from my chair."
Kasper is currently working on a historical thriller that will be written and released in English and German at the same time. She is also planning to write a sequel to LOVE in the future.​
Book Title: LOVE
193 pages
Softcover, $12.99; ISBN: 978-1511422338
E-book, $9.99; ASIN: B00V5A3FKG
Publication date: March 2015
Published by Korifaeus Publishing
Available booksellers Internationally, including Barnes & Nobles and Amazon. com
Media Contact: Korifaeus.entertainment@gmail.com
Share: