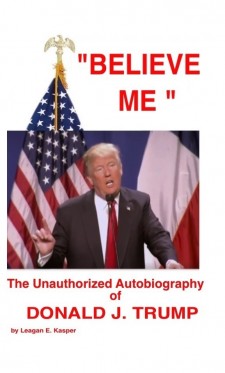 New Book titled "BELIEVE ME" by Author Leagan E. Kasper, generates new Excitement and Enthusiasm for Presidential Candidate and Republican Front Runner Donald J. Trump.
New York, NY, April 18, 2016 (Newswire.com) - Donald J. Trump is setting the record straight, personally confronting various issues of controversy while also sharing secrets of his childhood that led him to become the man he is today, in new book, BELIEVE ME - The unauthorized Autobiography of Donald J. Trump. The New York real-estate mogul begins by thanking his family with great generosity of spirit, then graciously extends gratitude to his supporters, much like he does in real life through twitter and Facebook. From beginning to end, BELIEVE ME ​​​reads like it is coming right out of the mouth of The Donald.
Author Leagan E. Kasper nailed it with BELIEVE ME, creating an honest parody perfectly in tune with the vocabulary, rhythm and sentiments of Republican front runner Donald J. Trump, as we've come to know him through his campaign speeches and interviews. Not for a moment will the reader doubt anyone else but the New York Tycoon wrote each and every page himself, which makes it all the more humorous when the Donald begins sharing anecdotes of his childhood, never previously made public and kept secret for most of his life, until now. Revealing he wishes to become a President much like Theodore Roosevelt, whom he admired for his ability to make deals with most everyone, Donald Trump suddenly goes into detail about policies in BELIEVE ME, for the very first time. His real likes and dislikes, about various opponents, may come as a surprise, much like his views on politicians caught with their pants down, leaving the reader to ponder about the State of Affairs.
Some people have said the coloring of my hair and my hairstyle makes me look like an evangelical TV preacher. My hair ? I tell these people they should see my penthouse at Trump Plaza. It looks to some like the home of an Arabian sheik, or Liberace. I could see Liberace live in my penthouse. Believe me, Liberace would have loved it.

Book Excerpt: BELIEVE ME
BELIEVE ME is a fascinating and entertaining read in which Donald J.Trump, through the parody-feather of Author Leagan E. Kasper, puts much of what he said and stands for into perspective for the reader, with use of refreshing common sense, sharp wit and substance.
BOOK TITLE : BELIEVE ME - The Unauthorized Autobiography of Donald J. Trump.
Softcober, $5.99 ISBN :153271467X
Publication date: April 12, 2016
Published by Korifaeus Publishing
Available bookseller internationally, including Barnes & Nobles and Amazon
About the Author
Leagan E. Kasper is an Award winning American Author living in New York City. She is the founder/creator of Korifaeus Entertainment, the multi-genre entertainment boutique online.
As a writer, Kasper notes that her primary inspiration is "to indulge in all of what my imagination has to offer, to go on adventures, experience situations I envision while writing, and indulge in sensual pleasures I can imagine to exist without getting up from my chair."
Source: Korifaeus Entertainment
Share: